Joan McLean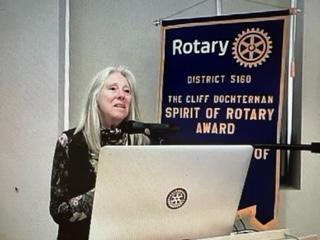 Joan McLean, our newest Berkeley Rotarian, founded her West Berkeley store, The Stained Glass Garden, in 1976, after teaching in the Oakland schools for 12 years. She moved to Southern California eight years ago, and joined the Laguna Beach Rotary Club, while continuing as President of her firm in Berkeley. An active member of her club, Joan served as secretary for three years and was called "the heart of the club" by current club leaders. During this time, she also enjoyed cooking meals for the homeless and others and organizing fundraisers.
Joan has recently returned to Berkeley to be closer to her family. She has been an active volunteer with the Berkeley Food and Housing project, one of our community partners. As a new Berkeley Rotarian, she immediately enjoys the fellowship of dozens of friends, and looks forward to being a "beaver" working on service projects.
Welcome, Joan McLean!