Shavani Grover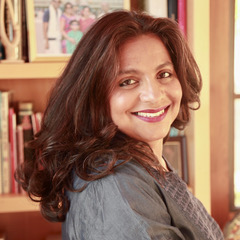 Shivani Grover was born in the Republic of Trinidad and Tobago and raised in Miami, Florida. She has been a resident of Florida, Massachusetts, Pennsylvania, and now California, where she enjoys living in Berkeley.
Shivani has spent much of her professional life in the field of education, building living wage models for educators and developing educational programming. Her work with local schools as well as the University of California, Berkeley has spanned from early childhood to post-baccalaureate levels. Shivani has also worked in academia as an Indian art historian at Harvard University, where she worked on Mughal painting, the sculpture of Chhattisgarh, and Vedic texts. In addition, Shivani is the co-founder of a technology consulting firm alongside her husband.
Shivani serves on a commission for the Oakland School Board. She is also an active member of the North Hills Community Association, Metropolitan Greater Oakland (MGO) Democrats, and the Alameda County Democrats. With the MGO Democrats, she is advocating for a more robust civics education in the Oakland Unified School District. Shivani also loves mentoring students and recent graduates, speaking Sanskrit, cooking (on the spicy side), and baking. She is also a lapsed knitter and would love to get back into that habit.

Shivani lives in Berkeley with her husband, Prasad, her eleven-year-old son, Vidur, and two dogs, Copper and Niño. Educated on the east coast, she holds a Bachelor's degree in the History of Art and Architecture, specializing in Indian art from Harvard University and an MS. Ed. in Teaching, Learning and Curriculum from the University of Pennsylvania.
Her sponsor is Mary Alice Rathbun.