Ignacio Franco
In November 2020, Ignacio Franco was introduced to Piedmont's City Council as the new Planning Technician. "This is a tremendous opportunity to work on climate action initiatives like the green reach codes [that aim to reduce city carbon emissions]," he told the Piedmont Post. A Berkeley Rotarian since 2019, Ignacio is no stranger to climate concerns. He leads our Rotary Climate Action Team (RCAT).

Ignacio grew up in the Iron Triangle, an area of Richmond, CA, where he saw the worst aspects of life firsthand. While attending Berkeley High School, he turned his attention from skateboarding and roaming Richmond to classwork and writing poetry about the neighborhood. He was accepted to UC Berkeley and earned the Berkeley Rotary Scholarship. In Spring 2019, Ignacio graduated with a Bachelor of Arts in Urban Studies.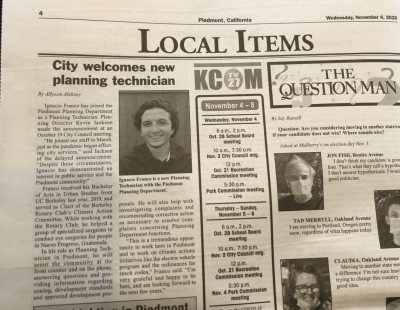 Ignacio says, "It's great to see my face in the city's newspaper!" We think so too!